iNTRUDER - The nukebot
VOUCHER CODE : ASV-D74J-6JPV-79LR-FL74-CTCY
use it here http://u3d.as/1jHp
Motivation
iNTRUDER - The nukebot was created for OpenGameArt JAM-#2

Description
It is a puzzle game where you have to program your robot to achieve the objective. If you don't want to be discovered avoid the enemies and traps. Collect all the bot parts to enable all features.

Story
An outer space ship has appeared near the earth. From the first moment we thought that was an exploration ship, but suddenly it starts to destroy all our satellites. We should do something before they destroy us completely, so we decided to send a present, a nukebot camoufled in a box like a trojan horse.
We have an intruder on that ship, your mission is program that little bot and reach the core of the ship, after that you will have to push the red button...
Enjoy it.

Age rating ( Everyone )

Install instructions
Except where otherwise noted,content on this project is licensed under MIT License.
Comments
Log in with itch.io to leave a comment.
Thanks for participating! See you next year!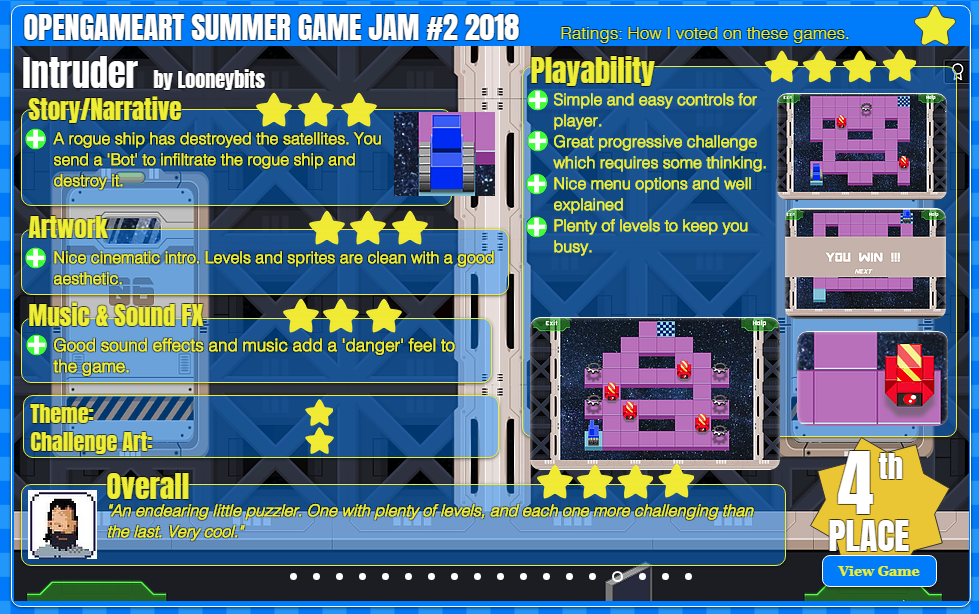 Nice Jam result. Visuals are great and i understand the game without having to read the help section which is always nice :D
Simple yet addictive ... obviously more levels would be nice, but jams are jams after all :D
Btw: Since i created the ingame music i won't celebrate the audio section even though it's interesting, how it creates tension even in games it was not targeted for.